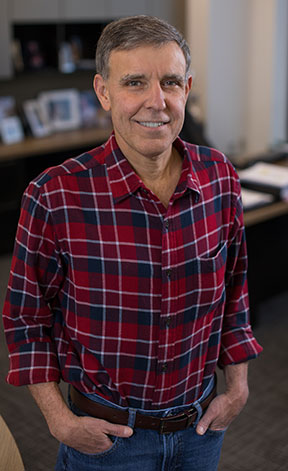 Confidence through co-op commitment
by Paul Sukut
I am writing this just as we come out of our annual ratings agency visits. Normally, we prepare our presentations, pack our bags, and travel as a team to New York City to give the agencies an update on our cooperative. This year, due to the COVID-19 global pandemic, we stayed in Bismarck and presented to S&P Global, Fitch Ratings, and Moody's through web conferencing.
We work to build relationships with the analysts assigned to our cooperative at these agencies because we know they need to understand our business model before they can rate us in a way that truly represents our strengths or weaknesses. There is a story in this issue of Basin Today with Steve Johnson and Susan Sorensen on how our staff prepares for the ratings agencies visits, what is top-of-mind today, and why having our directors involved in the visits is so important. We all agreed we were thankful that technology gave us the opportunity to meet as scheduled, but meeting through a computer screen will never replace our in-person visits.
Analysts at the ratings agencies often remark how valuable and unique it is to have members of our board involved in these visits. The analysts can directly ask questions of the directors and get a straight answer from an end-of-the-line cooperative member. That kind of access just isn't there when they have an investor-owned utility in for a visit.
Basin Electric directors relay what is happening in their communities in South Dakota, Iowa, and all across our nine-state service area. It's a remarkable demonstration of transparency that a director can openly share news from their network of cooperative members.
The commitments our members have made to one another and to Basin Electric through the wholesale member contract are a powerful testament to the strength of our cooperative, and ratings agencies take note of that.
Let's take one aspect of our business — generation facilities like power plants and wind projects — and look at how the strength of our commitments to one another gives our co-op a sturdy foundation on which to operate.
A few years back, our members signed wholesale power contracts out to 2075 as a way to continue to provide reliable electricity to their members. Those contracts allow us to take a long-term approach when planning for future needs. At least once a year, we update our member load forecast to determine how much power our members will need several decades into the future. This forecast helps us determine whether we will need to build more generation facilities, purchase some power from the market, or collaborate with a third party. We can't answer any of those questions until we work with our long-term members to forecast electrical load for decades out.
Because our members own us, they have a say in the decisions that are made. Will Basin Electric build a new power plant? That's a board decision. That kind of democratic process doesn't exist in the investor-owned utility world, or in the rest of the business world in general.
While having confidence in member commitments through the wholesale power contracts takes one variable out of the equation; the decisions made by our board of directors aren't easy. Hundreds, and sometimes thousands of hours of staff time go into putting together data and analysis that leads to the big decisions over which our directors spend time learning, deliberating, and ultimately voting on the next course of action.
After directors make a decision to build or buy, for example, we talk financing, a step which is made easier or harder depending on how the agencies I mentioned earlier rate us. Our board has asked us to maintain a "solid A rating." Why? That rating allows us to borrow money at a lower interest rate, which then means we can potentially keep rates low for our membership. An important piece of the puzzle, for sure.
We then amortize the debt of our facilities over the life of the asset. When we do that, members continue to benefit from the asset while they are paying for it, and therefore they are not paying for something they are not using.
Having certainty in member commitments is good for every member of Basin Electric. It shows up in loads being forecasted more accurately, and in lower rates, ultimately.
Every time I sit through a board discussion on a "big decision" action item, I come away with a sense of awe at the process. Our 11 directors come from and represent a membership that spans nine states right down the middle of the United States. It's a diverse membership with a wide range of views, but one overarching goal: to deliver power to the end of the line that is reliable, safe, and affordable.
We are able to meet our member needs having made decisions based on the confidence of our commitments, both through our contracts and through our relationships.
What's good for our members is good for Basin Electric. And that is where the cooperative model really shines.