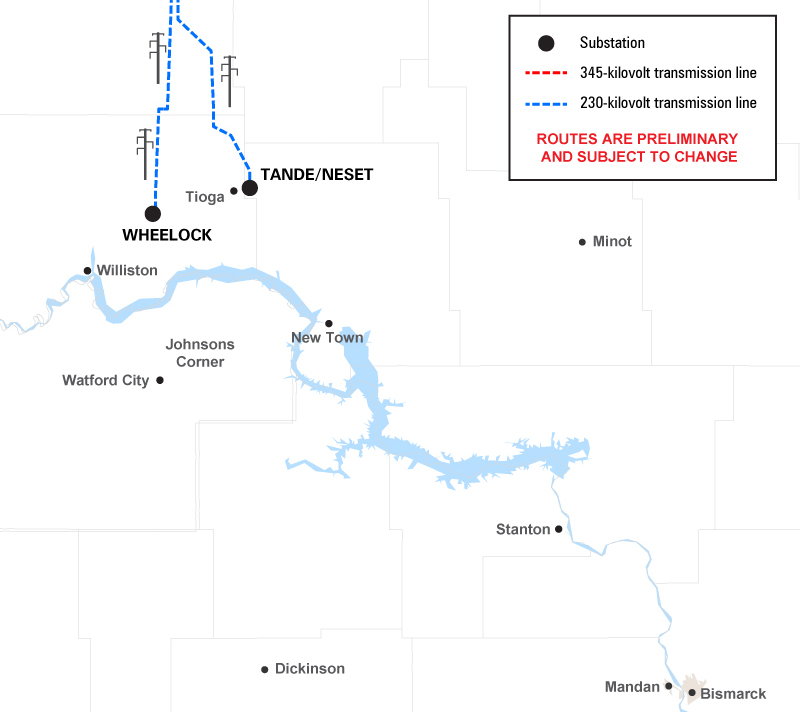 Two 230-kilovolt (kV) transmission lines are needed to enhance the export and import capabilities between the United States and Canada.
The Tande-to-Saskatchewan and Wheelock-to-Saskatchewan 230-kV transmission line project was deemed necessary to resolve deficiencies in the transmission capability by the Southwest Power Pool (SPP). The two circuits will provide export and import capabilities of up to 650 megawatts, strengthening the local and regional electric system.
The project includes approximately 110 miles of new 230-kV electric transmission lines from existing Basin Electric substations to the Canadian border. One circuit will be routed from the Wheelock substation (near Ray, North Dakota), and the second circuit from the Tande substation (near Tioga, North Dakota). Pending permit and easement acquisition, construction is scheduled to begin in 2026. It is anticipated that construction will take approximately 12-18 months.
The project was approved by the SPP Aggregate Transmission Service Study in 2022. SPP provided Basin Electric an Approved Reliability Network Upgrade notice. Basin Electric is the designated transmission owner for the upgrade in the United States, and SaskPower will complete the circuit within Canada.
Transmission lines that cross an international border require a Presidential permit from the U.S. Department of Energy (DOE). Before issuing a Presidential permit, DOE must determine that the permit is consistent with the public interest and must obtain favorable recommendations from the Secretary of State and the Secretary of Defense. In addition, the issuance of a Presidential permit is considered a major federal action that requires DOE to comply with the National Environmental Policy Act (NEPA). Accordingly, DOE must take into account potential environmental impacts of the proposed facility and will likely prepare an Environmental Impact Statement (EIS) for the project.
Basin Electric will also file necessary permits with the North Dakota Public Service Commission. Permitting-associated work is scheduled to begin in the summer of 2023.