Todd Telesz
Just as we are celebrating our founding 60 years ago and reflecting upon our roots and where we came from, I think it might be helpful if you understood a bit about me and where I came from. I grew up near Youngstown, Ohio, about halfway between Cleveland and Pittsburgh in the Rust Belt of America. It is a part of the country that suffered severe hardship in the late 1970's and early 1980's as the auto and steelmaking industries disappeared to the Southern United States or ultimately overseas. My dad was a union factory worker for 35 years at Packard Electric, a division of General Motors that made wiring harnesses for GM vehicles. My mom was an orthopedic operating room nurse who took time off for her career or worked part time to raise my sister and I until we were in elementary school. They instilled a belief in the value and importance of family togetherness and a strong work ethic.
Years at CoBank
Unlike many of you and Paul, who were born in to co-ops, I did not discover the value of the cooperative business model until I joined CoBank in 1997, four years out of college. I then spent the vast majority of the past quarter century working for CoBank, a cooperative bank, focused on serving rural America's cooperatives across power, water, communications, and agriculture. CoBank is the second largest private provider of capital to America's rural electric cooperatives-second only to CFC who is one of our most valued and important relationships here at Basin Electric and across our membership.
Journey to Basin Electric
August 25 was almost déjà vu all over again when for me as I began my journey to Bismarck. It was almost 25 years to the day after my wife Ree Kae and I drove a Ryder truck and our Buick Regal coupe cross country from Buffalo to Denver in August of 1996. Only in August 2021, I left Parker, Colorado, in a U-Haul and made my way North to Bismarck. I drove myself for a couple reasons: one, I am cheap and two and more importantly, I wanted to be able to see our service area and travel through the communities we serve. I was able to pass through not quite a dozen of our members' service areas as well as right by Laramie River Station and one of our unit trains. I saw the immense expanse of our territory, the productiveness of the lands in raising cattle and grains, the Missouri River, and of course the omnipresent Wall Drug signs... although I never quite made it there, I did make it to Bismarck and Basin Electric on September 1st.
That's where I've been. I would like to spend the next few minutes sharing a look back at where we have come from, both from an industry and a Basin Electric Family perspective. Then highlight my views of three key industry trends whose importance and impact has been accelerating through the past 18 months of the COVID-19 Pandemic-and why I feel we, the Basin Electric membership, are well prepared, well positioned, and up to the task of successfully navigating what's to come.
I have only been here at Basin Electric for 60 days, and know I am working with 60 years of history here, a history of success driven by as I learned from the Basin Electric board, the Basin Electric team, as well as member-managers and members.
Throughout my time on stage today, I will share a few clips of the lenses through which our former CEOs guided and led Basin Electric. As we watch and listen to these, I think we can all agree that Basin Electric and our members demonstrate a get-it-done grit.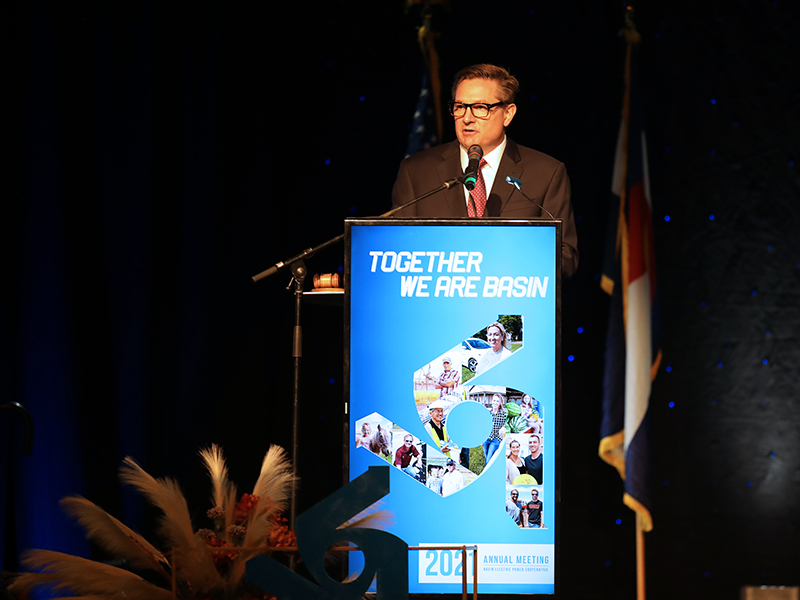 Components of a successful cooperative
Three themes resonated with me: stewardship, innovation, and adaptability, all underwritten by Member Focused decision-making and governance.
Stewardship of members' capital and resources driven by the value of the cooperative business model where people come together to solve problems that they cannot do alone. Decision-making is crystallized and simplified when there is a laser focus on the impacts to the member at the end of the line. 
Innovation to optimize the value of our resources either through mitigating risk or creating value for our membership through building the first commercial scale lignite fired electric plant in the US, finding new markets for selling excess power, buying and diversifying Dakota Gas to pivot to a fertilizer company, developing the nation's largest wind project owned solely by a cooperative - and then we did it again, investment in coal extending technologies (carbon capture or beneficial reuse). We were also the first utility - this was more than a decade ago - to issue an RFP for carbon dioxide removal technology providers and as a result we completed a FEED study exploring the feasibility of capturing CO2 from the Antelope Valley Station.
Adaptability, the ability to navigate an increasingly complex world where the pace of technological change is ever quickening, volatility is increasing, and decisions can be rendered "wrong" with the stroke of the pen-energy markets, regulatory requirements, and ESG policies and mandates.
People from the board room to the executive conference room to the cafeteria to our plants and operations across our service territory are the fundamental driver of success of living up to our mission, delivering reliable, affordable, and responsible energy to our member-owners.
Fuel mix and its impact
Speaking of rising rates, I thought it would be interesting to take a look to see how a changing fuel mix in the country has had an impact on the rates people pay for electricity. This is a look at the United States over the course of the past 15 years.
The bars show electricity consumed in terms of kilowatt hours. Each bar is then segmented by the fuel used to generate that portion of the electricity. The line at the top reflects the average retail price of electricity to end users in the United States over this same time frame. Coal generation is down more than 60% over time, and renewables generation is up 700% during this same timeframe.
Before drilling down on the impacts and drivers of these factors, I think it is beneficial to step back and think about the economic and operating environment in the US since the turn of the century. We experienced three financial crises, the Tech Crash of 2000, the Great Recession of 2007-2009 caused by the housing market collapse and its lingering effects on economic growth and interest rates, and the pandemic-induced recession and bounce-back recovery of the past 20 months. We were attacked on 9/11, leadership in the White House and Congress has swung back and forth between Republican and Democratic agendas driving volatility of regulatory and legislative efforts, particularly on environmental efforts, and climate change initiatives.
On more positive notes technological advances from things as simple as our iPhones (which came to market less than 15 years ago) to broadband connectivity, the internet of things, and in the energy space-fracking advances, continued cost curve declines for renewables generation technologies - wind and solar in particular and storage technologies close on their heels today.
Closer to home in the Basin Electric membership, we experienced the benefits and challenges of growth driven by a resurgence in rural America and agriculture, ethanol industry development, fracking technology driving and oil boom in the Bakken, and energy independence in America, and former parts of rural America becoming suburban America.
The electricity supply business across the United States has been a slow to no growth industry for the past 15 years aside from primarily weather-driven spikes, despite continued economic and population growth. 
What has driven this flatlining of growth? First a decoupling of electricity usage from GDP or economic growth. Historically, GDP and electricity usage moved almost in lockstep. Our economy has transitioned from a manufacturing based to more service based (my dad and I and the jobs we have are great examples of this). Second, we have the energy efficiency effects of the products and appliances we use on a daily basis.
Why is a flatlining of electricity demand important? It exacerbates the importance of making the right decision. You cannot outgrow a resource decision with costs in the hundreds of millions if not billions of dollars and that has a productive and useful life of 25-50 years.
Emerging trends
With that as background, let's turn to the emerging industry trends our membership is facing right along with Basin Electric in continuing to provide reliable, affordable, and responsible energy.
These trends present opportunities and some challenges. Load growth, electric vehicles, the pace of advancing technology, just to point out a few -- affect Basin Electric and every one of our members.
ESG in particular has garnered heightened attention over the course of the Pandemic.
What is ESG? At Basin Electric, we are increasingly considering the ESG factors  - Environmental, Social, and Governance. They impact both the way we serve our members and in our ability to access debt markets and maintain solid ratings.
From a Resource Planning perspective, the E in ESG has a focus on carbon intensity, energy management, water & wastewater management, ecological impacts, and overall cooperative exposure to environmental considerations.
These same concepts will impact two key drivers of demand and growth for us-the oil & gas sector in the Bakken and traditional farming and ranching across rural America and our service areas.
Finally, it is a benchmark that we are measured against by the rating agencies, our bankers, and our investors who provide us with our liquidity to operate Basin Electric on a daily basis and our long term capital which allows us to ensure that we can support the growth of our members, their communities and their end users with reliable, affordable, and responsible electricity
For a cooperative, ESG provides both risk and opportunity. Risk in terms of the "E," which may be more headline than fact-based and opportunity as S&G should be shining stars for cooperatives based upon the blessings we have from our business model.
However, let me provide a few highlights from my perspective on the "E" in ESG. Stewardship and innovation are two words I would use to describe our efforts.
Our stewardship begins with our commitment to the air, land, and water that is foundational to our member-owners at the end of the line in their everyday life - farming, ranching, working, and living in rural America. Therefore it is foundational to us.
We have invested almost $2 billion of our members' capital for environmental CAPEX and spend approx. $160-180mm annual ($5-6MWh) or 10% of the rates that you, our members, pay to operate our environmental controls.
We continue diversifying our portfolio through growth and operational scale. Renewables have grown significantly over the past decade. We now have over 300 megawatts of solar power purchase agreements executed. Over the past decade we have grown almost 50% and 80% of that growth was met with lower carbon intense or zero carbon fuels such as natural gas, wind and market purchases, which in Southwest Power Pool would generally be additional economic wind generation.
We also recently announced the acquisition of a 30% ownership position in the Nemadji Trail Energy Center alongside our partners Dairyland Power Cooperative and Minnesota Power.  Nemadji Trail is a 600MW combined cycle plant in Superior, Wisconsin, which is fuel flexible, in that it has the ability to burn hydrogen, demonstrating our innovation. Our commitment to "E" also inspires us and motivates us and our members to invest their capital in early stage technology initiatives, many under the auspices of local universities and research foundations that are focused on the communities we serve.
This commitment is long-standing, as the Great Plains Synfuels Plant has been capturing carbon dioxide for more than 20 years now. More than 41 million metric tons have been captured, which comes out to enough CO2 each year to remove all of the registered vehicles from Wyoming and North Dakota.
This also demonstrates our continued commitment to an all of the above strategy that becomes increasingly less carbon intensive over the course of the next decade.
When we built the Leland Olds Station - something we did as a co-op family - it had never been done before. Together, the Basin Electric membership built the largest power plant fueled by lignite coal in the Western Hemisphere.
Rich Fockler was an employee of Babcock and Wilcox during the construction of Leland Olds Station and later became part of our management team. He said they "didn't realize that getting the equipment to work was impossible, so they went ahead and did it. If something didn't work, they made it work."
Diversifying the resource portfolio
If we think about why Basin Electric and the membership built generation the way we did.
The top segment of the slide representing the year 2000 is very much a story of our history. We started with lignite coal generation as a local resource that created regional jobs and drove regional economic development.  Coal was also a resource that we had in abundance and had a stable cost profile.  We then built out a transmission and distribution system.  As our system grew and we needed to add resources, natural gas was not an option. It would have been illegal for us to burn natural gas to generate electricity, something we could not imagine today.  So we added additional coal using those same local resources for the same multitude of benefits. 
The bottom half of the slide representing 2020 very much demonstrates our adaptability in strategic resource development and responsiveness to market opportunities to ensure that we are providing reliable, affordable and responsible energy. As technologies evolved and became cost competitive or as their operating characteristics better matched our members' needs, we added them to our portfolio.
I want touch briefly on two other emerging trends before turning to how we leverage our strengths. 
Beneficial electrification is exciting for all of us, but particularly so for our Class C members and distribution cooperatives across rural America as the focus is really on driving growth by end users of our product-electricity. Whether it be through new technologies for an old purpose - see transportation - personal or fleet electric vehicles, replacement of natural gas for industry, or residential heating.
Another emerging trend is quickly changing technology. As we discussed, Basin Electric has been strategically adding renewable technologies to our resource portfolio over the past decade. I would also note that these technologies provide several benefits not available in prior generating technologies - namely locational flexibility, fuel diversity, and smaller optimal generating size. These factors reduce the capital and operating risk that is embedded in each facility. Perhaps most importantly, these new technologies can also be amongst our lowest costs of energy when they are added to our portfolio.
Dakota Gas
Before we turn to leveraging our Strengths, let's step outside the electric side of Basin Electric now to address perhaps our largest risk-mitigating opportunity - the sale of most of Dakota Gas' Great Plains Synfuels Plant assets and infrastructure to Bakken Energy. This is likely the most immediate challenge that is top of our members mind.
Our team is in negotiations with Bakken Energy and Mitsubishi on this potential transaction. There are many details to be worked out between the parties, and of course this decision is being considered with input from our membership.
Leveraging our strengths
With that as a backdrop, how does our legacy of stewardship, innovation, and adaptability position us, the Basin Electric membership, for success? Let's drill down on the opportunities and challenges closer here at Basin Electric and across our membership.
Change is constant. Your G&T has a proven track record of being able to adapt to change - bright, motivated people with a common mission to provide reliable, affordable, and responsible energy.
We are leveraging these three key strengths to continue our legacy of innovating to mitigate risk and create value for our membership - our geographic diversity, our operational scale, and our financial strength.
Our territory is diverse and growing. Our members serve the Energy Corridor of the United States from the Bakken to the Niobrara and the breadbasket of America.
Our large geographic footprint brings value to the membership in a number of ways, including a diversity in the sectors of load we serve. Basin Electric serves a mix of industrial, agricultural, and residential load.
We are one of the largest G&Ts. I fundamentally believe that economies of scale still have value in the electricity business in terms of providing reliable, affordable, and responsible energy. I think our operational history has demonstrated the wiseness of our resource development plan in meeting the growing and diverse needs of our members. As can be seen on the map we have a diverse set of fuels, locations, and size of generating sources.
I also think that going forward, our knowledge and expertise in transmission system planning, construction, and operations will provide continued opportunities for us to create value for the Basin Electric membership. Transmission value and importance only increases as our generating resources become more dispersed geographically and less dispatchable. In addition, our access to multiple markets across the Upper Midwest, Great Plains, and Rockies will provide opportunities for us to optimize our energy portfolio economics whether it be through generation or market purchases.
Together as Basin Electric, we have successfully navigated all of that volatility and have maintained our financial strength and stability. We are consistently one of the top rated G&T's with "A" ratings and a stable outlook.
Many times utilities and G&Ts in particular can be characterized as unable or unwilling to adapt to change. I think that the culture and DNA of the people who make up Basin Electric - our board of directors, our senior team, and our workforce complemented by a supportive membership absolutely do NOT demonstrate an inability or unwillingness to change. In fact, just the opposite. We have and will continue to change in service to our members, I am confident of that. Where does that confidence come from? Because if you look at the past decade Basin Electric has made fundamental changes to our operating and financing model: joining Southwest Power Pool, leading the development of Western Energy Imbalance Service, creating market and risk management teams, buying out of Rural Utilities Service to provide additional financial flexibility and speed to market, supporting the growth of the Bakken, transitioning our generation portfolio, and operating flawlessly during a Global Pandemic. 
I think Paul said it best. "You can have all the technology in the world, you can have all the great equipment in the world, but if you don't have good people like our people are, it's meaningless. You can't get anywhere."
I love this quote from Paul because he and I believe exact same thing. The only sustainable competitive advantage of any successful cooperative is "good" people, and based on my first 60 days at Basin Electric, I think good is an understatement!
I wanted to close with the perspectives of two of our members…..
Allison Gee is a director at Powder River Energy Corporation. She is a practicing attorney. She lives in Gillette with her husband and three children. You see the pony in the background in this picture. Her daughter Anna was on the cover of our most recent Basin Today magazine.
Maartje and Casey Murphy: Maartje owns Cows and Co Creamery, where she makes and sells gelato and artisan gouda, two practices she learned in her home country of The Netherlands. Maartje and Casey are members of Northern Plains Electric and live near Carrington, North Dakota. Maartje was on the 30 under 30 list in Forbes magazine last December
As I watch and listen to these two members-its simplifies what we do for me…it's our WHY. We as a Basin Electric membership drive quality of life, economic prosperity, economic opportunity, and resiliency in rural America through delivering on our mission to provide reliable, affordable, and responsible energy.
We've always risen to the occasion, we do not have a choice. We must continue taking on the challenges in front of us and seizing the opportunities to create value or mitigate risk for our members at the end of the line because together we are Basin Electric.