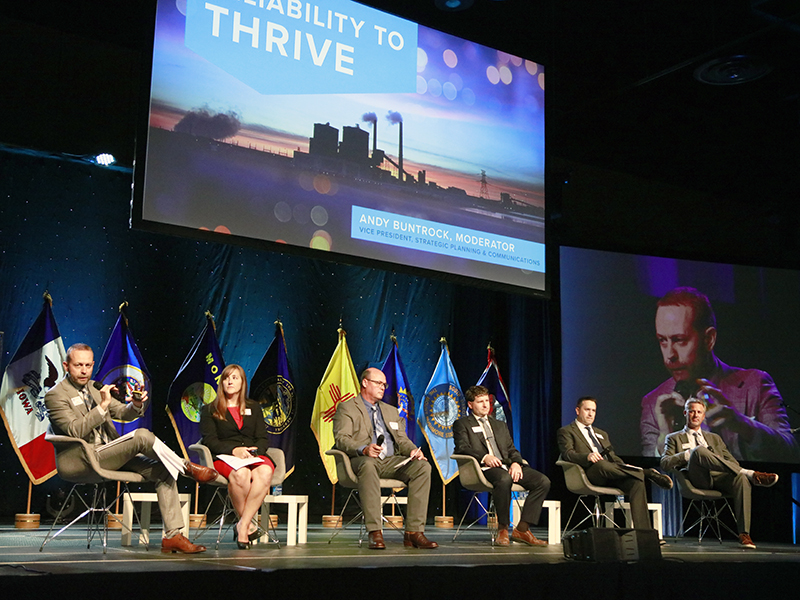 The Operations panel, entitled Reliability to Thrive, and moderated by Andy Buntrock, vice president of Strategic Planning and Communications, provided updates from five key panelists: Erin Dukart, director of Environmental Services; Troy Tweeten, senior vice president of Operations; Trinity Turnbow, vice president and Operations manager of Dakota Gasification Company; Matt Ehrman, vice president of Engineering and Construction; and Jeremy Severson, vice president of Transmission.
Dukart discussed the proposed federal regulations that are threatening Basin Electric and other electric cooperatives' ability to provide reliable and affordable electricity to their members. She said the Environmental Protection Agency's (EPA) recently proposed greenhouse gas emissions rule likely poses the biggest risk to reliability. The proposed regulation forces utilities into a decision to either install unproven technology on an unrealistic timeline that relies on infrastructure that is not yet available, or prematurely retire power generation facilities. "The EPA has said that they are giving utilities lots of flexibility because there are all these multiple pathways to compliance, but in the end, it doesn't really matter how many pathways there are if none of them are workable," she said. Dukart went on to say the cooperative is working with trade organizations, transmission organizations, other utilities, state and local governments, as well as the EPA to educate and encourage the development of a balanced and reasonable final rule that doesn't jeopardize reliability and affordability.    
Tweeten talked about the innovative ways Basin Electric is putting resources into figuring out how to capture and store carbon dioxide (CO2) to allow the cooperative to continue utilizing fossil fuel-based generation while reducing emissions. He gave updates on the projects at Basin Electric's Dry Fork Station near Gillette, Wyoming, as well as the Wyoming Integrated Test Center (ITC) and Wyoming CarbonSAFE projects that are located at the facility.
Tweeten shared how the facilities have been ensuring reliability this past year, including focusing on improving systems for lessons learned and root cause analysis, increasing warehouse inventories by evaluating whether more common parts can be shared between facilities, planned outages, and utilizing software that assists with monitoring systems.
Tweeten also shared examples of how the teams at Antelope Valley Station and Leland Olds Station have reverse engineered and fabricated parts to ensure reliability. When discussing one of these instances, Tweeten said, "I should mention that all our employees take a lot of pride in keeping the plants clean, keeping them running, and keeping them reliable, and this is just another one of those examples."
Turnbow gave an update on Dakota Gas' carbon capture, utilization, and storage project (CCUS) that, when operational, will utilize 45Q tax credits. "We are expecting in quarter one of next year for construction to be complete. This project will reduce the carbon intensity at Dakota Gas and provide another enhanced revenue stream for us," Turnbow said.
Turnbow shared about an upcoming outage at Dakota Gas that is a major step in the plant's reliability program. "We've got what we call a 'brown plant' outage where we will be focusing on a lot of reliability projects that will help improve our gas path's online factor, which will also help us maximize the potential of the 45Q project," Turnbow said. "Brown plant means everything will be down except for some utilities, steam, air, and water. The total duration of the outage will be about a month. During this outage, we will have several original pieces of equipment and piping that will be replaced."
Turnbow also talked about the focus that has been put on improving the reliability of Dakota Gas' ammonia and urea plant. The urea plant was one of the few in the region that was available this past spring, which benefited not only the membership, but farmers in the area, too. "We were able to be there during the spring for our customers when it mattered most. When you invest in reliability, like we have in these units, you will see results," Turnbow said.  
Ehrman discussed what Basin Electric is doing on the generation side to ensure reliability. "We try to leave room for things like additional units or expansion."We're thinking about emissions controls that might be coming down the pipeline, things that we might want to leave space for, such as the carbon capture," Ehrman said. "That flexibility allows us to respond to those future events quicker, which ultimately provides additional reliability for the membership."
Severson talked about the large transmission buildout including energizing nearly 350 miles of high-voltage transmission line by the end of 2027. "This additional transmission will increase the load-serving capability of the area," he said. "It increases the transfer capability up in this region, it will allow additional loads or generation, and it also lays in a couple of new delivery points for our members, and that adds redundancy to their load-serving capability"
Severson also gave an update on the progress made on the cooperative's Aging Substation Infrastructure Replacement Initiative. "Several years ago, we sat down with a team of Basin members to identify our substation facilities that had equipment that was reaching the end of its useful life," Severson said. "We've taken a systematic approach to identifying which facilities are the most impactful and are replacing some of that with newer technology to make sure that those facilities will be reliable for the next 40-50 years."