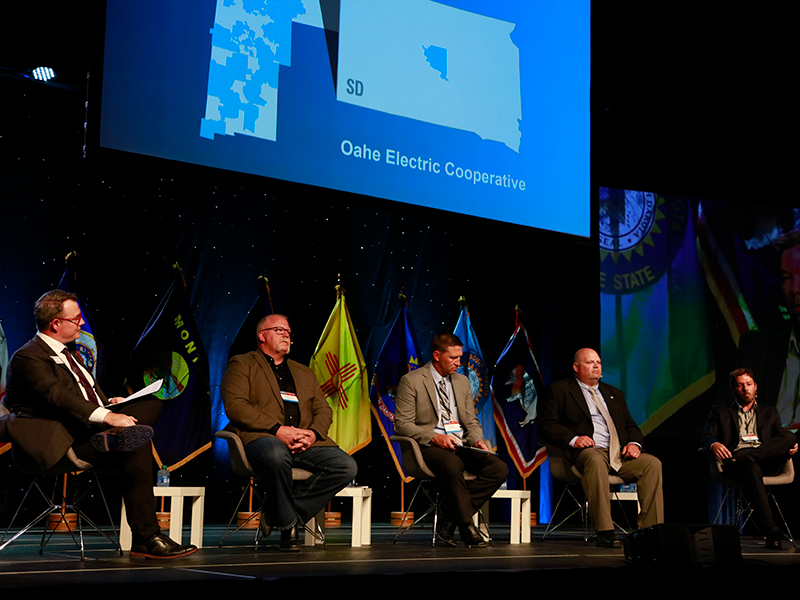 This year's member panel, called Member Strong, included members from different areas of Basin Electric's membership: 
The conversation started by talking with Ruschy about Iowa Lakes Electric's member, HiPer Ceramics. Ruschy said that HiPer Ceramics moved from Germany to Iowa because of the extremely high prices and reliability issues they encountered.
"They make ceramic parts for hips – actually, the ball and socket replacements," Ruschy said. "With the renewables that Germany and the European Nation had put in place as wanting to go that route for baseload, they were starting to see extremely high prices and reliability basically just tanking.  They were getting brownouts and blackouts at unannounced times, so of course, with some help from economic developments and ties to Iowa…we were able to site them here in Iowa."
Ruschy also said that Iowa Lakes Electric has a strong ag presence.
"Most of it stays local, but we're feeding the country – the world, basically – but we're also attracting folks like Torben to come to our area and create high-paying jobs," Ruschy said.
Next, the conversation shifted to Brian Mills. 
One unique load served by Powder River Energy is the city of Wright, Wyoming. 
"Wright is located right in the heart of the Powder River Basin.  As they emerged out of the coal and the oil industries coming into the Powder River Basin, Wright was situated in there to help support the residents and the supporting industries of those major industries," Mills said.
Powder River Energy has been through the ebbs and flows of the energy industry. Mills was asked to talk about the challenges he's seen and how Powder River Energy has responded to the everchanging landscape.
Mills talked about coal bed methane, uranium, local politics, and the strategy Powder River Energy has developed to provide reliable, safe electricity.
Next, Jason Brothen talked about one of his members, Vess Hurley, who owns Hurley's Oilfield Service and has made a business out of many different aspects of the oilfield.
"It could be from rental equipment to communications or whatever you know, so he's an entrepreneur, and on top of that, he's also maintaining farmland as well," Brothen said.
Brothen also talked about another unique member of Lower Yellowstone Electric: a farmer that started a butcher shop. "He supports the 4-H, he's trusted by a lot of area farmers and ranchers to process their animals and stuff, and so we were updating our Savage Substation, which sits across the road, and we needed an easement from him. We went to him to get an easement and he said well, 'You know, I need to expand my business over here on the other side of the road,' which we did not serve. MDU serves the town of Savage, but his shop sits right on the edge, but MDU could not serve three-phase power to him. So we figured out a way. We said to him, 'If you can work with MDU, we can get you some three-phase power because we're right there, you know, like 33 feet away.' He said, 'Don't worry about that; I'll take care of MDU,' and the next week we were pouring in three-phase service to his butcher shop, and he expanded his service with coolers."
Brothen then shared some information about Mid-Yellowstone Electric, and then the conversation shifted to Jordan Lamb. He began by talking about Ringneck Energy, a local ethanol plant that is a member of Oahe Electric.
"They've been a great member for us, stable, steady load, high load factor, great for our community," Lamb said.
Lamb said there have been other benefits since Ringneck Energy's arrival.
"Ringneck Energy hauls roughly 120,000 bushel of deliveries a day, so you're looking at roughly 150 semi loads of corn coming into the facility a day, and their entire elevator turns over its entire inventory once around every seven days, whereas a standard elevator, you might only see turnover of the crop in the elevator one to two times a year. So, the amount of volume that it has allowed our producers to haul at short notice if weather events come up, they have a spot to go with that corn instead of having to build bins on their own property, and I think that's something that's really been an asset to our local areas," Lamb said.
The panel ended with comments on what being a Basin Electric member meant to each panelist.
Ruschy talked about the value of the three-tier cooperative model.
"We may be one of the larger co-ops in Iowa, but we're still small, so it's kind of that group effort of what not only Basin, and then the Corn Belt and NIPCO, provides to our substations, and then we distribute it out to our members. We have that backing all the way up the ladder as we go up to Basin and back down to us, but the key is that our membership appreciates that, because that's who we're all here for in the end," Ruschy said.
Mills echoes Ruschy's thoughts and also talked about rate stability.
"Overall, if you look at the big picture, our members value rate stability. I think trying not to become just a bill on the kitchen counter, but be something that's really meaningful and impactful to our communities, I think that's what it (Basin membership) gives us the ability to do," Mills said.
Brothen said it is meaningful to be a part of a co-op that values the cooperative principles, rate stability, and working together.
"It doesn't matter if you are a large commercial member or a small farmer residential member… because one member is one vote, and I think just knowing that we're part of a group of co-ops that have that same continuity is very important for us," Brothen said.
Lamb closed by adding that stability in relationships with other cooperatives is also a benefit of being a Basin Electric member.
"I think what's really important for us as a co-op family moving forward is treating this as a marriage, that we're all in this together, and whether we have indifferences or not, at the end of the day we can all agree that we're all still family," Lamb said.