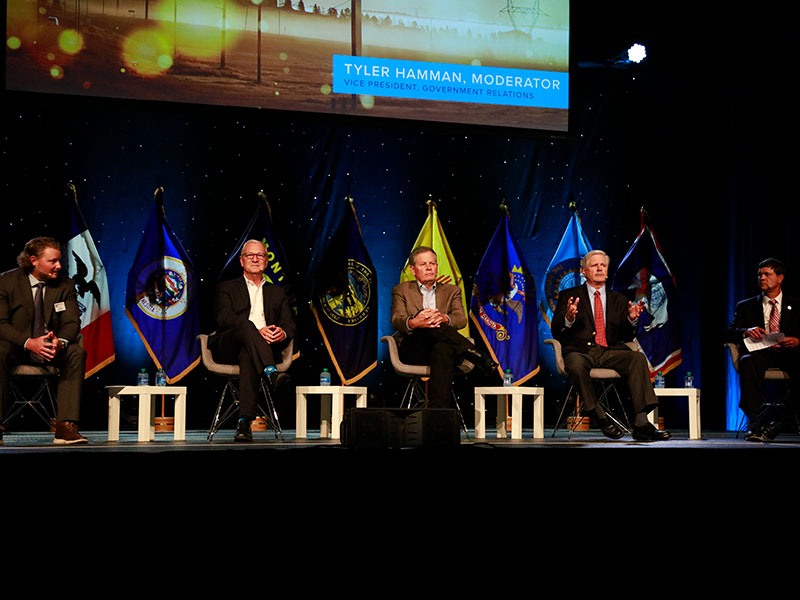 Basin Electric Vice President of Government Relations Tyler Hamman moderated a congressional panel at this year's Annual Meeting of the Membership. The panelists included U.S. Sens. John Hoeven and Kevin Cramer of North Dakota and Steve Daines of Montana. Co-moderating the panel was Paul Gutierrez, National Rural Electric Cooperative Association senior principal of legislative affairs.
"Since we met last November, it has been a busy nine months of state and federal legislative activity. In addition, the agencies within the executive branch have been burning up the federal register with notices of rulemakings, guidance documents, implementation of the IIJA and Inflation Reduction Act, and other regulatory activity," Hamman said. 
The panel covered policy implications for reliability, 45Q and its continued bipartisan support, EPA regulations, and tax credits enacted by the Inflation Reduction Act. 
Energy needs are predicted to increase by 50% over the next 25 years. "If we get energy right in terms of energy policies in this country, a lot of things work out pretty well on their own," Daines said. "Our rural co-ops present the most accurate crosssection of our states. They are focused on providing reliable, affordable, and resilient energy to their members." 
On the topic ofreliability, "Basin Electric is leading the way, and you have for a long, long time, and there's no question in terms of what's going on right now in energy. You provide cost effective, dependable energy and common sense to this discussion," Hoeven said. "You lead with not only the latest, greatest technology and innovation and true leadership and responsibility to all the people you serve, but that common sense." 
Regarding bipartisan support for the 45Q tax credit and other energy tax incentives, Cramer said, "Regardless of how much support 45Q or other tax policies have going forward, in either party or either chamber, the fact that it's the law of the land today largely sort of embeds it if you will. We're going to stand up to whatever pressures come our way, but 45Q is so critical to the future of baseload electricity and the fuel sources that can provide it, that I just don't see Congress turning back."  
The panelists also discussed the importance of good policy making when it comes to EPA regulations. "We need good environmental stewardship with the latest, greatest technology to give us cost effective, dependable energy every day that makes us not only energy independent, but energy dominant," Hoeven said.
Hamman thanked the panel participants. "We certainly appreciate your insight and support as we work as an industry and cooperative family to navigate these issues," he said.